10 rising stars in the energy and environment world
April 25, 2016

By Timothy Cama, Devin Henry and Megan R. Wilson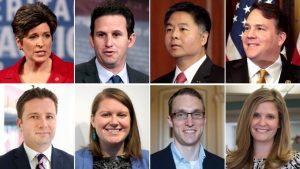 A changing of the guard is underway in the energy and environment arena. A new generation of lawmakers, lobbyists, advocates and staffers is making its presence felt, bringing novel ideas and enthusiasm to the policy battles shaping the nation.
Here are 10 names to watch.
Sen. Brian Schatz (D-Hawaii)
Schatz has made it his goal to push the Republican Party on climate change.
The Hawaii Democrat has sought to force votes in the Senate to highlight areas where Republicans are out of step with public opinion on climate issues.
He has introduced several bills related to energy, including one that would phase out tax subsidies for oil companies and another that would set a carbon fee, while embracing the role of attack dog.
Two years ago, Schatz led Democrats in an all-night Senate session where they made the case for action on reducing carbon emissions. Last spring, he secured a floor vote on an amendment that called climate change a man-made phenomenon.
Republicans rejected those efforts as partisan, but Schatz said they served an important purpose.
"We have to make the contrast crisp," he said. Politically, "for those members who refuse to recognize the reality of this problem, there has to be a price over time."