David Iha Endorses Senator Schatz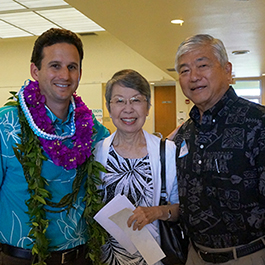 "I spent my childhood years growing up in the "Portuguese" plantation camp in Koloa, Kauai. As the youngest of 9 children born to immigrant parents from Okinawa, I witnessed the struggles of my parents trying to provide a better future for our family. Their perseverance and sacrifice gave me the opportunity to pursue a college degree.
Senator Brian Schatz's action in supporting legislation to bring the cost of higher education within reach of those most in need of financial aid in our community is one of the reasons I support Senator Schatz.
My parents and siblings were active members of the labor movement that brought better conditions for our workers. When I joined the ranks of the University of Hawai'i in 1966, one of the first things I did was to become a member of the Hawai'i Government Employees Association (HGEA). I've been a life-long member of HGEA. The HGEA wholeheartedly supports Senator Schatz because of his commitment to the working class.
I had the privilege of serving on a non-profit board with Senator Schatz when he served as President and CEO of Helping Hands Hawai'i. I was impressed with his compassionate desire to serve people in our community who are in need of assistance for living. His commitment to lending a helping hand comes from the heart. His service demonstrates that his heart is in the right place.
Join me in supporting Senator Brian Schatz! His heart is in the right place!
Mahalo,
David Iha"