Governor John Waihe'e endorses Senator Schatz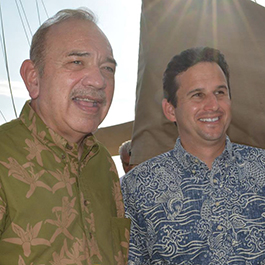 "Aloha,
I've known Brian Schatz from when he was a Representative in the Hawai'i State House until today. I support returning Brian to the U.S. Senate because he is a strong leader for Hawai'i for today and tomorrow.
Here are five reasons why:
1) When Brian first became a U.S. Senator he stepped forward and asked to serve on the Indian Affairs Committee because of its importance to Native Hawaiians and our State as a whole. Together with his chairing the Water and Power subcommittee and the Tourism subcommittee, he has put himself in ideal strategic positions to move Hawai'i forward.
2) He's secured funds for our State in areas as wide ranging as the East-West Center, critical infrastructure needs, and Native Hawaiian health, education, and housing programs.
3) He's introduced legislation to strengthen Social Security and to increase benefits for our kupuna. Senator Tom Harkin of Iowa, so long a guardian of Social Security and who is retiring from from the Senate, recognizes Brian as a needed champion in fighting for Social Security. Because of his leadership in protecting and expanding Social Security, the National Committee to Preserve Social Security and Medicare has endorsed Brian.
4) He is leading the way in making sure more people can join the middle class and stay there. He's sponsored ohana-strengthening legislation on college affordability, pay fairness, family medical leave, early childhood development, gun safety, and veterans care.
5) Perhaps what is most important, Brian is a very strong person who will do the right thing for Hawai'i. He is principled and unafraid to take on the toughest issues. From the beginning of his public service work, he has steadfastly fought for real action to combat climate change, when so many others either denied the problem or just paid it lip service.
Brian has built relationships with Senators from across the country to move forward meaningful and collaborative legislation for American families. I am amazed at the relationships he's built with his Senate colleagues over the last year and a half. That is how you get important things done for Hawai'i.
Brian's proven combination of leadership and character are what make him my choice. Hawai'i's future and Hawai'i's families have always come first for him, and they always will. That is why I am very happy to vote to send Brian back to the United States Senate where he will make us proud and continue to get the job done for us."
With aloha,
John Waihe'e