Mary Matayoshi Endorses Senator Schatz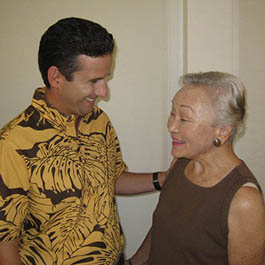 "Nobody had to ask me to support Brian Schatz. I was so impressed with the results of his work in the community, his honesty and integrity, and his ability to listen to everyone that I went to his fundraiser uninvited, walked right up to him and said, "I'm going to support you."
I have always encouraged people to get out there and work for the things you believe in. From my days helping run the University of Hawai'i Peace Corps Training Center, my 15 years developing the University's Continuing Education and Community Service arm, running the Governor's Office of Volunteer Services, and starting the Volunteer Resource Center of Hawai'i, I have seen how the actions of one person can have a ripple effect that reaches a far greater number of people.
I see this deep set of beliefs, working ethic, and incredible spirit in Brian.
When he asked me to be one of his Co-Chairs for this campaign, I told Brian that I was certainly willing. At 84, I still love walking through neighborhoods to go door-to-door and talk with voters. I sure can walk, a lot faster than my young friends and with lots of vim and vigor.
But we'll need more than just me to build the grassroots strength that will win this campaign. That's why we need your help.
We are building great Neighbor Island teams and regional teams on Oahu. We're out there working hard to win this election because I have always believed you should be willing to work for the things that are important to you. And that one person with a good heart can make a big impact."
—Mary Matayoshi
Campaign Co-Chair
Schatz for Hawai'i