Roland Casamina Endorses Senator Schatz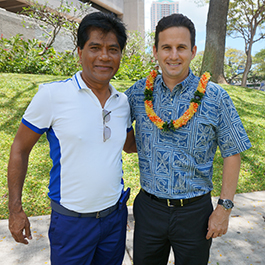 "I'm a big believer in the power of community. We're stronger when we stand together, which is a big reason why I've been deeply involved with the Filipino community in Hawai'i for most of my life.
Brian Schatz has done an excellent job of listening to the concerns of Hawai'i's many communities while in the U.S. Senate, which is what drew me to support his candidacy.
But we also need to make sure we're there for Senator Schatz when he needs us to come through.
Let's stand together and have Senator Schatz's back, by making sure his campaign has the support it needs to reach every voter in Hawai'i with the news of how he has stood up for Hawai'i values in Washington.
After coming to Hawai'i from the Philippines, I went from waiting tables to gaining a business degree from the University of Hawai'i to eventually opening my own business, House of Finance.
It was a lot of hard work, but much of the credit has to go to the communities and institutions that helped support me as I built a career after coming here with almost nothing.
That's why I've always endeavored to give back, helping students get the chance to pursue a business degree from UH through the scholarship program and working to foster strong ties within the Filipino community.
When we appreciate how one of our representatives stands up for us, we need to be there for them as well.
I hope you'll join me in supporting Senator Schatz."
Mahalo,
Roland Casamina
Campaign Co-Chair
Schatz for Hawai'i