Russell Okata Endorses Senator Schatz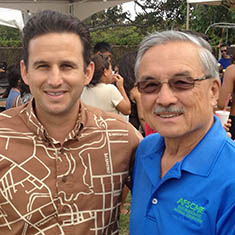 "I may not be the youngest guy anymore, but I think a great deal about Hawai'i's future. And there's no one I would trust more to guide us into that future than Senator Brian Schatz.
Growing up on a plantation in Pepeekeo on the Big Island, I dreamed of my future and of attending the University of Hawai'i. Now I think more about my grandson Jordan and my daughter Camille, as well as the hundreds of keiki she nurtures as a public school teacher.
Brian is a family man and father of two young children, and I know that he is looking ahead to make sure Hawai'i stays strong.
Senator Schatz has fought in the U.S. Senate to improve education. He's sponsored legislation to put the cost of college within reach for more young people and worked to expand access to pre-K education and reform No Child Left Behind.
But he's not only concerned about our next generation. Senator Schatz has also stood up time and time again for our kupuna, protecting Medicare and pushing to expand the Social Security benefits that are the primary source of income for so many people across Hawai'i.
Back in 1998 when I was Executive Director of the Hawai'i Government Employees Association, I saw something special in Senator Schatz.
We endorsed him that year in his first race for state legislature, and while I no longer lead HGEA, I'm proud to say that Hawai'i's largest union has wholeheartedly endorsed Senator Schatz once again.
It's no surprise why. Senator Schatz has a proven track record of standing up for workers and delivering for Hawai'i in the U.S. Senate. He's been able to form relationships with Senate leaders that will ensure Hawai'i gets the respect and funding it deserves in the coming years, especially as Senator Schatz is able to climb in seniority."
—Russell Okata
Former Executive Director
Hawai'i Government Employees Association