Ruth Miller Endorses Senator Schatz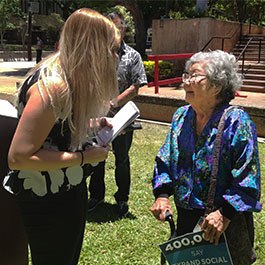 "I have to say, retirement has been good to me. I'm 94 years old, and I am so happy I still get to spend so much time with my family. I am the biggest sports fan I know, so I love to talk about my Broncos and Bows at the dinner table, and I still make it to UH games all the time.
But I know retirement isn't like this for everyone. I'm lucky that I have Social Security, and my family too, but with costs going up it can be hard for seniors to make ends meet.
A few months ago, Senator Schatz invited everyone to come hear about his Social Security bill. Well, I liked what I heard. His bill would increase benefits by around $65 a month and strengthen the program for many years to come.
The TV stations were there, and they wanted to interview me. They wanted to know if at 94 years old the extra money would help me. I said yes, and I went on TV for the first time in my life.
With what I get now, I wouldn't be able to make it without help from my family. The extra money Senator's bill would give me would help pay some of my medical expenses. It would make quite a difference.
I support Senator Schatz because he wants to increase Social Security for people like me, and he wants to make sure it will continue to be around for a long time.
We all have different stories. Me, I was proud to go on TV and say I want the Senator to keep fighting for Social Security for all of our families, for a long time to come."
—Ruth Miller