Sally Watanabe Endorses Senator Schatz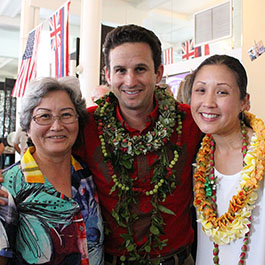 "I am a small town girl who had an opportunity of a lifetime. Growing up in North Kohala on Hawaii Island, I never would have imagined that one day I would be offered to work as a staff member for two of Hawai'i's outstanding political leaders in Washington, DC. I lived and worked there for over 30 years.
When I began my career in 1972, Hawai'i was increasingly being recognized because of the diligent efforts of our Congressional representatives who established cordial relationships with their colleagues to ensure that Hawai'i's concerns were heard.
Fortunately for Hawai'i, our long serving leaders in the United States Congress have continued to excellently serve Hawai'i's needs. We must maintain this service to Hawai'i, and I sincerely believe that Senator Brian Schatz is the person who can continue to serve our State.
I met Senator Schatz at various public events. However, after meeting personally with him a few times, I was impressed with his knowledge of, and commitment to the many issues facing Hawai'i's citizens.
Senator Schatz's concern for our children, youth, middle and older generations is genuine. Raising two young children and having his parents-in-law live together with him and Linda make him truly understand the issues facing us, now and in the future. In advocating universal pre-K for our keiki, affordable college for our high school graduates and protecting and expanding Medicare and Social Security for our retirees, Senator Schatz will help ensure that Hawai'i is a viable option for all ages.
My choice for United States Senator is Brian Schatz. He has the integrity, sincerity, and ability to continue Hawai'i's legacy of having strong and caring leaders. As our present Senator, he has already been delivering for our State, and as his seniority increases, more can be done to move forward to benefit not only Hawai'i, but also our nation.
Mahalo,
Sally Watanabe"