Brian Schatz Steps Into Spotlight on College, Climate, Foreign Policy
June 11, 2015

Sen. Elizabeth Warren might have the biggest grass-roots megaphone in the Democratic caucus, and Charles E. Schumer is in line to be the next Democratic leader.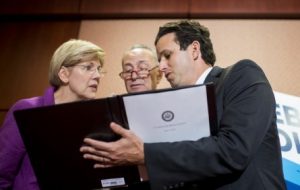 On Wednesday, the Democrats from Massachusetts and New York appeared with a relatively new colleague with lower name ID, but with a rising profile on the left. Sen. Brian Schatz took center stage to highlight a campaign with the Progressive Change Campaign Committee and a coalition for "debt-free college."
It was one of a trio of policy rollouts for the Hawaii Democrat this week, with Schatz taking disparate approaches to reducing the cost of higher education, combating climate change and advancing a progressive foreign-policy vision.
"There's more than one thing to do and there is more than one way to do it," Schatz told CQ Roll Call. "My approach has been to evaluate the political context in which an issue ought to be addressed and to determine whether it's appropriate to work from the inside of the legislative body — in committee and on the floor — or whether this is going to require additional citizen engagement or engaging with opinion-makers."
At the education event, Schatz and Schumer made clear they were seeking to promote outside engagement.
"These costs discourage people from going to college at all, and if we're serious about wanting people to pursue higher education, we can't put them on the brink of bankruptcy every time they graduate," Schatz said. "This ought to be an issue for this Congress, for next Congress and this coming election."
Later Wednesday, Schatz explained his strategy in an interview.
"There are issues that are not yet ripe in the Congress but absolutely are full of momentum with the public, and I think the debt-free college issue is one of those," Schatz said. "Where we are moving on gay rights is another one of those."